New Brunswick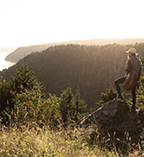 New Brunswick is the perfect destination for visitors wanting to get away from it all. Uncrowded and unspoiled, New Brunswick offers outdoor activities, wildlife viewing, charming inns, national and provincial parks, scenic driving, and a cultural mix of French Acadian, Scottish, Irish, English and First Nations people. Just some of the things that make it so special? Whales breaching before your eyes, the freshest and most succulent seafood, warm saltwater beaches, island hopping in the Bay of Fundy, lively cultural festivals and warm, welcoming people that are the heart and soul of this Province.
Newfoundland and Labrador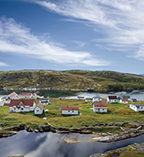 Known for some of the friendliest folk on the planet, Newfoundland and Labrador is located on the most easterly edge of North America. This is where the sun rises first and where Vikings landed over 1,000 years ago. This is a land of rich history, a trio of UNESCO World Heritage Sites, icebergs and breathtaking coastline.
Nova Scotia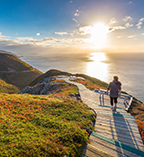 Embrace the spirit of the perfect road trip as you enjoy spontaneous discovery in each of our scenic regions. Enjoy our long-standing connection to the land and the sea as you pair our seafood with wine from one of our 15 wineries. From whale watching and coastal hiking to world-class golf courses, a lot of outdoor activity is packed into Nova Scotia.
Prince Edward Island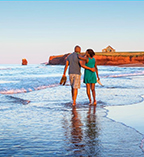 The green pastoral landscape, water views and warm hospitality make life on Atlantic Canada's gentle island unique. Roam through the colourful countryside, stroll along the many miles of beaches, golf at a top-rated course, dance at a kitchen ceilidh, or browse through a local craft shop – PEI offers something for everyone.